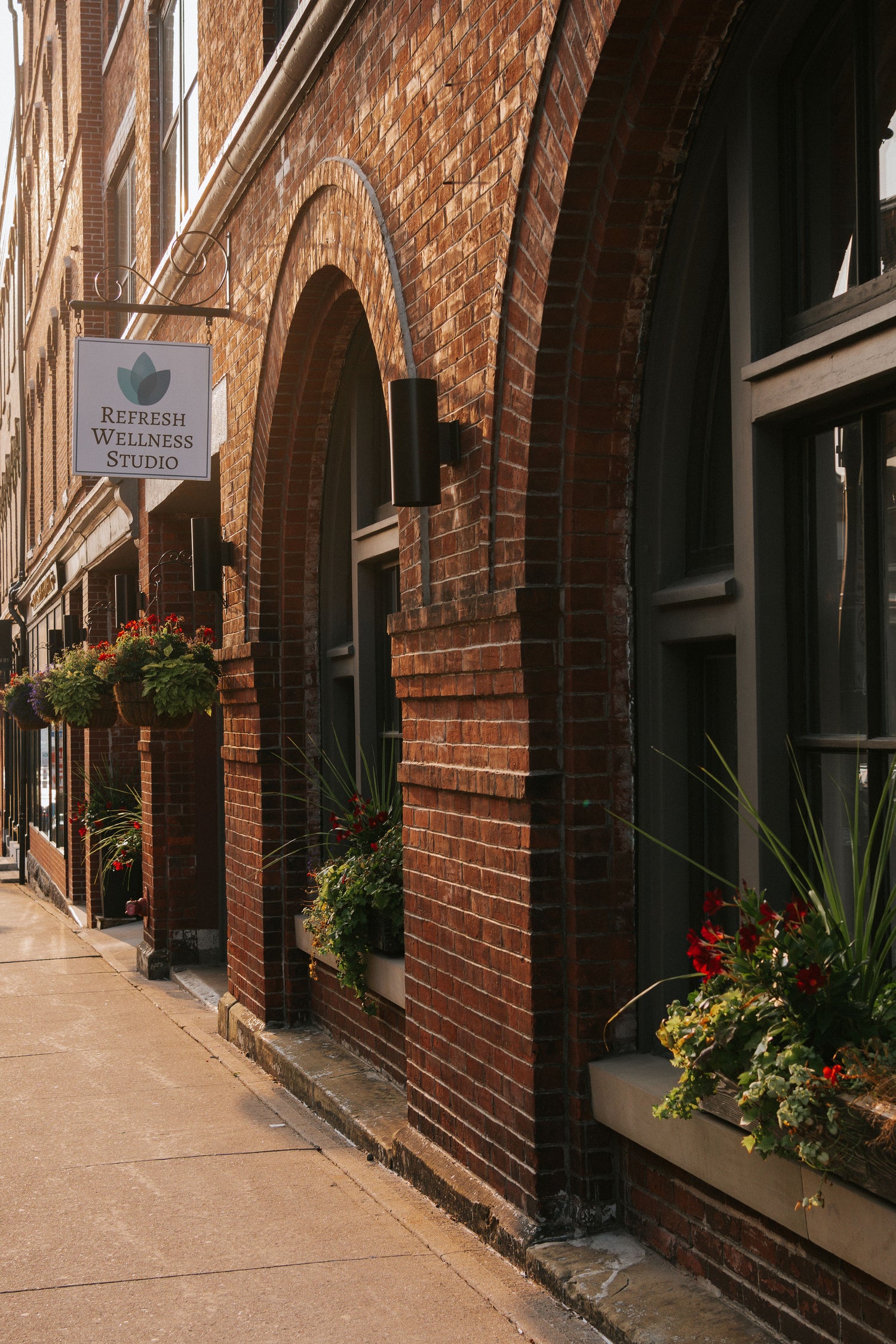 A wellness spa and studio doing things a little differently in the heart of uptown Saint John.
We're proud to have a beautiful uptown location where we can connect with clients in person, and offer specialized services like massage therapy, facials, nail care, and so much more.
We believe in the products we use at Refresh so much, we wanted to empower our clients to use them at home, too.
Book a service with us.
Embrace Wellness, Experience Warmth: The Story of Refresh
Our journey began with a simple yet profound appreciation for the healing power of aromatherapy. Our founder, a dedicated aromatherapist, envisioned a haven where quality meets kindness, creating a range of aromatherapy products that not only soothe your senses but also uplift your spirit, all while ensuring your safety and health. This vision bloomed into Refresh Aromatics, our custom line of products that embodies assurance, affordability, and authentic aromatherapy experiences.
As we grew, we continued to find inspiration in the connective power of caring for others and finding wellness in all aspects of life. This perspective guided us as we evolved from a service-based clinic to a holistic wellness studio.
At Refresh, we understand that our connection with you doesn't end at an hour-long appointment. We cherish being a part of your continuous journey towards health and happiness, which is why we introduced an array of products that echo the excellence and efficacy of our in-studio experiences. Whether it's our favourite professional skincare line leaving your skin radiantly healthy, or our own brand of essential oils making your home a sanctuary of tranquility, each product is offered with your wellness, comfort, and results in mind.
But it's not just about what we offer; it's about how we offer it. No confusing memberships, no overwhelming choices – just straightforward, sincere guidance from our licensed service providers, ensuring you feel supported, heard, and valued every step of the way. Your questions, concerns, and aspirations direct us, allowing us to bring you products and services that resonate with your unique needs and desires.
At Refresh, you're not just a customer; you're a cherished member of a community bound by the love of holistic wellbeing, a shared celebration of life's simple joys, and the relentless pursuit of a healthier, happier world. Your journey to rejuvenation and whole-body happiness starts now, and we are ecstatic to walk each step with you.
At Refresh Wellness Studio & Aromatics, we're more than just a space or a store - we're a community of people that value kindness, integrity, and quality.
We are dedicated to offering you ethically sourced and premium products, both at our spa and online, without the fuss and frills. Step into a world where your well-being takes center stage, all wrapped up in genuine warmth and respect.
Common Questions
Local Pick Up in Saint John

At Refresh Wellness Studio, we're all about making your experience as seamless and delightful as possible. When you make a purchase from our online store, feel free to stop by and collect your wellness goods in person!


Find us at 91 Princess St, Saint John, NB, E2L 1K5. Not only will you get your items straightaway, but you'll also get to soak in the serene ambiance of our studio. It's a perfect chance to ask our friendly staff any questions about your purchase, or get recommendations for other products or services you might love.


Come on by – we can't wait to see you!
Canada-Wide Shipping Coming Soon

Currently, our store is embracing the local vibe with in-person pick-up only at our serene location at 91 Princess St, Saint John, New Brunswick.

We know the excitement for broadening horizons, and we're ardently working on providing Canada-wide shipping solutions to bring Refresh's delights straight to your doorstep as soon as we can.

Your patience and continued support mean the world to us as we grow and enhance our offerings.
A Note on Returns

In the world of wellness, every choice is a step towards well-being.

We want you to be utterly content with your selections. If for any reason you are not entirely satisfied, you can return your unused items within 14 days of purchase for a full refund. Please remember to provide your original receipt. Your happiness and peace of mind are our priority. Please note, that gift certificates remain non-refundable.

If you have any questions or need more insights about our products before making a purchase, don't hesitate to reach out. Your journey to wellness is one we walk together, and we're here to support you every step of the way.
Our Privacy Policy

Your peace of mind is paramount to us. We're committed to safeguarding your personal information. When you shop with us, be assured that your data is kept in strict confidentiality.

We collect only the necessary information to ensure a seamless shopping and service experience for you and will never share your details with third parties without your explicit consent. Any data we gather is used in compliance with Canadian privacy laws.

If you have any concerns or questions about your privacy, please feel free to contact us at any time at reception@refreshwellness.com. Your trust is the foundation of our community, and we work tirelessly to preserve it.